Analyzing Pete Carroll's recent comments regarding receiver Golden Tate and linebackerAaron Curry required some reading between the lines.

What Carroll said about Tate: The second-year receiver will see his role increase quite a bit, particularly as a slot receiver on third down, a role Brandon Stokley played last season. "There's nothing that we would like to see more than to elevate Golden's effectiveness," Carroll told the Tacoma News Tribune. "We just didn't get him over the hump last year, and we need to do that. He'll be in position to take over a huge role for us."

[+] Enlarge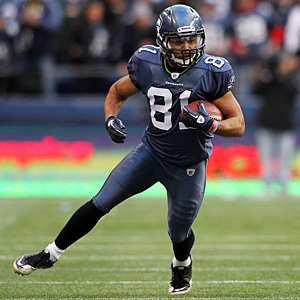 Jonathan Ferrey/Getty ImagesThe Seahawks are counting on more production from Golden Tate in 2011.
What to keep in mind: Carroll fired offensive coordinator Jeremy Bates this offseason. Bates was a big Matt Hasselbeck supporter. Hasselbeck was a big Stokley supporter. Hasselbeck and Stokley are seasoned veterans. Coaches often favor seasoned veterans during the regular season because they can trust them. Tate was a raw rookie who did not immediately grasp the nuances of the game. The organization wants to go young. This is the time of year to think about going young. It's tougher to do during a season, but I think Carroll will make a more concerted effort to push the team in that direction. Hasselbeck could still return, of course, but young players such as Tate are going to get longer looks, most likely. Some of the older players will not be back.

What Carroll said about Curry: The coach likes what Curry offers as a physical presence against opposing tight ends, but he wishes Curry would develop in other areas. Carroll: "We think he's has a guy who has a tremendous amount of potential to get better. He wasn't able to factor in the pass rush as we hoped. He wasn't able to break into the top two rushers."

What to keep in mind: Carroll inherited Curry. He did not draft Curry. But the coach would still like to have more than a traditional strong-=side linebacker in return for the millions Curry is getting as the fourth player chosen in the 2009 draft. Curry is big, physical and athletic, but he is not a natural pass-rusher. He did not rush the passer much in college. At one point last season, I recall Curry using his Twitter account to vent about his role. Curry recently re-tweeted remarks suggesting Carroll was trying to put a "square peg into a round hole" by expecting Curry to rush the passer. I asked Carroll about Curry during the NFL owners meeting in March. This is what Carroll said:
"The thing about the situation, he was the fourth pick in the draft and expectations were ridiculously high. He made a ton of money. He is a really talented, big, good-looking athlete and everybody on the outside expects him to be something different than what he is right now. He hasn't dominated yet, but he is a player on the come and he is improving and working hard and figuring it out. He is a factor. He is a real positive factor for us. But it's all expectations. That screws everyone up. If you take a look at how he plays and what he does and how he produces, he's getting a lot done. But it doesn't meet up to the expectations. You can almost mis-evaluate him because he is supposed to be whatever he is supposed to be. To me, he is a guy on the team who busts his ass and is working hard and we're trying to fit into situations and a role for him that is best. The first day I got there, within the first hour, I put on film of him because I wanted to see what he could be as a pass-rusher. See if he had that ability because of the speed and the size and all that stuff. My expectations for him are high, but I don't think they are unrealistic."

The bottom line? Seattle used the fourth overall choice in the draft for a strongside linebacker. Attempting to maximize the investment is only natural, and Curry's obvious physical talent suggests it could work, but it might not.
---------------------------------------------------------------------------------------------------
My take is that Golden Tate will make huge strides over the next two seasons. Physically, he reminds me of a young Steve Smith (CAR). He is an explosive receiver, with dynamic run after the catch ability. Heck, this guy is a former running back. Once he learns how to play wide receiver at this level, he will be dangerous.
Aaron Curry is a bit of a different situation. When Curry was playing all over the field his last year at Wake Forrest, he was a very good player, but he wasn't exactly a dynamic game changer. There were even some concerns that he might not even be the most impactful player on that squad. Now that certainly can be debated, but Curry is not a player that makes a lot of splash plays. He is a solid and consistent player, and he works hard. He is a guy that is going to play clean, be in the right position, and not make mistakes. But you don't pay him like an elite OLB, to not make mistakes. How often is he going to be a game changer? A player that the other team has to game plan against. I like Curry, but when you are the #4 overall pick, the expectations SHOULD be high. I would hate to get paid millions, and have people place high expectations on me. Curry is a good player, but maybe he shouldn't have been picked at #4.

I hope I am dead wrong about Aaron. I would love for him to prove that he is a special player, and I wish him the best.
Tiger