by Tiger Hebert
As the 2012 season approaches optimism is in the air no matter what team you are pulling for, heck even the Dolphins said they should win the AFC this year! So as we look forward to this season, I am going to share a short list of players that will be better in 2012.
This week we cover the Wide Receivers!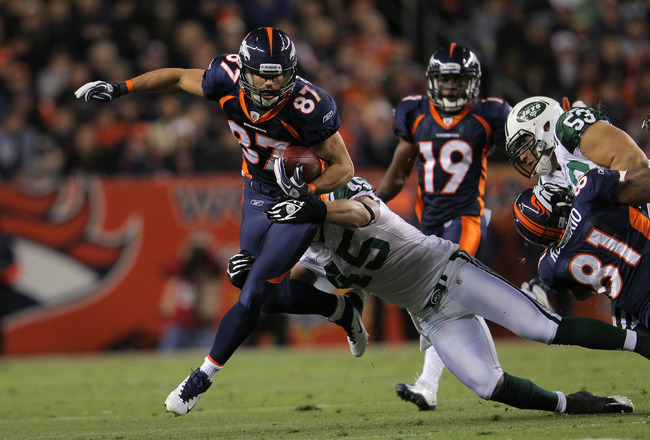 Eric Decker, Denver Broncos - This young man is very intriguing to me this year and I think he will be one of the biggest surprises of 2012. Despite playing in the Tim Tebow offense last year, Decker still managed to land at 32nd in fantasy football rankings among wide receivers last season. With Peyton Manning now under center in Denver the passing game with thrive again. Most experts are predicting Demaryius Thomas to get the lion's share of production this year, but I think that will only benefit Decker further. Thomas is clearly the number one, and Decker will face much more single coverage. Manning has always found ways to take lesser known players and turn them into production machines, look at Anthony Gonzales, Austin Collie, Brandon Stokley, and Jacob Tamme to name a few. I would not be surprised to see #87 almost double his numbers from 2011. He could easily post over 80 receptions, 1,200 yards and at least 12 touchdowns this season.


Titus Young, Detroit Lions - Not often in the NFL do offensive rookies have an immediate impact. Yes we do see superstars burst onto the scene, but it is definitely not the norm. Especially on an offense as talent as the Lions. However, Titus Young was far more productive than many realize. As a rookie Titus was the 4th highest scoring fantasy player on the Lions offense, and was actually 42nd among all receivers. The 48 catches for 607 yards and 6 touchdowns was a pretty good start. Yes Titus showed immaturity over the last 9 months, but all indications out of MoTown are that he has his head screwed on straight. Reports out of the mini camps are that he has been uncoverable in practices as his offseason work and focus is really showing. If he can maintain this new level of focus while leaving behind the childish antics, he will explode this season. I could see over 70 receptions and 1,000 yards with double digit touchdowns for Young this season, as he surpasses Burelson as the team's number two receiver.


Mike Williams, Tampa Bay Buccaneers - In the 2010 draft Mike Williams stock plummeted, as the former Orangemen who quit on his team wasn't to be trusted. Tampa pulled the trigger on the New York native and he quickly surpassed highly touted rookie teammate Arrelious Benn, to become the teams number one. Williams did not disappoint with 65 grabs, 964 yards and 11 touchdowns. He only caught 50% of his targets that year, but he made them count. In 2012 the Bucs as a whole did not play up to expectations, and Williams was no exception. He caught another 65 passes, but for only 771 yards and 3 touchdowns. His catch rate was actually slightly better as it was up to 52%, but he really just struggled to get open. Since his struggles were more about getting open in his second year, I think it is more about exposing Williams for what he really is, rather than being an indictment on his play in '11. Williams was trying to carry an offense as a number one receiver, but he is really suited better as a number two. The great news, and much to his delight, is that he no longer has to try to be that go to guy. With the brilliant addition of Vincent Jackson, Freeman now has a legit number one, and Mike Williams will now gladly face single coverage. Williams may not put up gaudy statistics, but he should easily improve upon last years numbers in at least two categories, yards and touchdowns. Williams could still hover around 65-70 receptions, but he should be closer to 1,000 yards and 8 or more touchdowns. This could land him in fantasy football's top 40 receivers in 2012.


Brandon Marshall, Chicago Bears - Brandon Marshall averaged 83.5 receptions and 1,114 yards and 4.5 touchdowns during his two years in Miami, but was widely considered a disappoint. His lapses in concentration leading to several crucial drops lead to much criticism, but the truth is that despite those lapses and his personal struggles off the field, he still produced at a very high level, especially considering Miami's quarterback woes. According to Pro Football Outsiders, Marshall was actually ranked 16th among receivers for his effectiveness. Marshall is now reunited with the quarterback that helped him have two of his three straight 100 plus reception seasons on his way to becoming at one time, the highest paid receiver in the league. Cutler is ecstatic to have his big target back and will easily find ways to feed the beast. During their two best years together, Cutler targeted Marshall roughly 175 times per season. During his two years in South Beach he was targeted an average of 144 times per year. If we use that data we can assume that Brandon Marshall will produce at least 90-95 receptions this year with over 1,100 yards and 6 touchdowns. Not bad for a guy that was traded way for what amounts to a pair of dirty socks (in reality it was two 3rd round picks, but I prefer the hyperbole for effect).


Antonio Brown, Pittsburgh Steelers - In his first season as a starter, Antonio Brown was special. While Mike Wallace gets all the love, Brown nearly matched his production with 69 receptions for 1,108 yards and 2 touchdowns. This sneaky good season put the second year pro in fantasy footballs top 25 receivers. This year, I expect him to improve upon that. Brown will not get as much attention as Wallace, because he is not used to take the top off the defenses as much. This forces teams to keep a safety over top of #17 at all times, which will continue to create opportunities for Brown. Additionally, and I hope I am wrong, but I steer clear from players with holdouts. That means that unless Wallace signs his tender soon, then we don't know when he will show up to play. More often than not, players end up hurting themselves by holding out, and wind up with some form of serious or nagging injuries that plague their season. I hate to see it happen, but it is usually the case. If the holdout continues, I would trust Brown over Wallace. Especially with the new offense they are installing, as he is already behind the learning curve. Regardless of Wallace's presence, I expect Brown to trend upward with 75 or more receptions, nearly 1,300 yards and close to 10 all purpose touchdowns.


Brandon Lloyd, New England Patriots - I expected this move to happen a long time ago, so it was no surprise when Brandon Lloyd asked to be released, that he followed Josh McDaniels to New England. Lloyd has always had the talent, but earlier in his career he was immature and gave his coaches headaches with his attitude. But that changed in 2010 when he had the best season of his career grabbing 77 balls for 1,448 yards and 11 scores as a Bronco. The McDaniels era quickly came to a close and Orton and Lloyd both found themselves shipped out of town the following season. Lloyd still showed he was explosive in his short time with the Rams, but they were so awful it was lost among the losing. Now in New England and back in McDaniels' system, I expect Lloyd to flourish giving Tom Brady a deep threat that they have not had since Randy Moss left the team. Lloyd may not compare to some of Welker's numbers, but 80 receptions for 1,200 yards and 10 touchdowns is not unrealistic season for Lloyd in 2012.
---------------------------------------------------------------------------------------