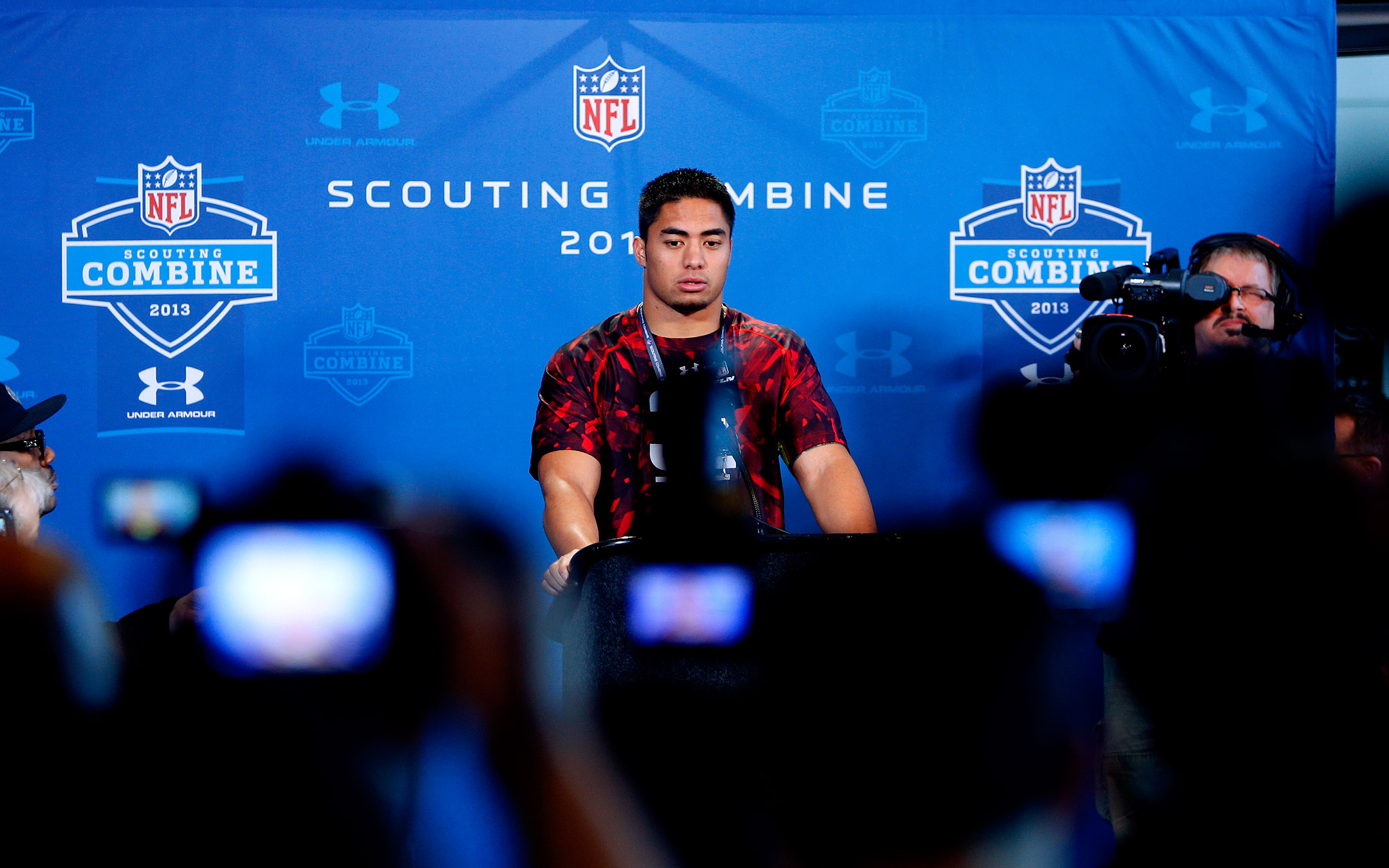 Written by Tiger Hebert
Dion Jordan showed he is every bit the freak athlete that we thought he was. Not only did he run fast, jump high, etc., but he looked like a natural in the different bag drills. He bends surprisingly well for someone of his height. The only knock on Jordan is that he is too light right now to play a traditional end role in the NFL.
Barkevious Mingo has question marks concerning his effort and production, but his workouts were exceptional as expected.
Ezekiel Ansah flashed the elite athleticism that we expected with a 4.63 forty and a positional best 1.56 10-yard split. Ansah also put up a decent 21 reps, considering his arm length (35.18). Ansah will not escape the top 15.
The "Eastern Block", Margus Hunt wowed everyone with his combination of size and athleticism. The Estonian stands 6'8 and 277 pounds. He benched an amazing 38 times, especially with such a long frame, and ran an official 4.60 which is one of the fastest among defensive ends. The big question about Hunt is why there was minimal production at SMU, outside of his nearly record setting 17 blocked kicks.
DaMontre Moore, as I previously mentioned, was a huge disappointment over the last few days. He only repped out at a pathetic 12 bench presses. His forty time was terrible at 4.95, which was slower than defensive tackle Shariff Floyd.
Bjoern Werner was rather average among the defensive ends. He did have 25 reps, but his 40 was officially 4.83 and his 10-yard split was a respectable 1.66. Ultimately I need to study more tape on Werner because his production seems solid, but I think he will be over-drafted in April.
Florida Gator defensive tackle Shariff Floyd raised concerns with his tiny little arms which only measured in under 32 inches, but when he did the rest of his workouts, his talent was on display. He looked very fluid in his drills, enough for Warren Sapp to comment on his ability to really flip his hips and run. He also had an impressive 4.92 forty while being 300 pounds. Floyd seems to be a lock for a top 10 pick come April.
Khaseem Greene will need to rely on his production and game tape, because he disappointed during the combine. The former safety ran a pedestrian 4.71 while putting up just 17 reps. Fortunately he did have a 1.62 10-yard split though which should help.
Zaviar Gooden is a player that I am high on and his stock continues to rise with an impressive combine showing. He ran a sub 4.5 forty, 27 reps and a 34 inch vertical. You see the explosiveness and athleticism, the question will be why his production dipped after his impressive sophomore season.
UConn's Sio Moore did not run quite as well as I anticipated as he was in the mid 4.6 range, but he had better size than I realized at 6/1 245 with 33.58 inch arms, so that makes up for the speed difference. He also had a very good 10-yard split like Greene at 1.62. With this size and 29 reps on the bench, I think Moore is a good fit for both 4-3 and 3-4 teams and could go as early as the 2nd round.
I don't want to over-analyze Manti Te'o's workout at the combine, but it is work taking a look at. His forty was slow as expected, but I am not sure that many people thought he would run in the 4.8s. Again he is much quicker than fast, and he showed it with a decent 10-yard split of 1.62. I am curious as to why Manti declined the bench. This may not be anything, but it does concern me that he didn't feel prepared to display his strength. He did show decent lateral agility and the quickness in his drills, but his feet didn't look as clean as they could have been. I don't know if this is an issue or if he was just dealing with nerves and anxiousness. If I were to make a pro-player comparison at this point in the process, I would have to liken Manti to Rey Maualuga. So I looked up Rey's combine performance and I found his numbers for the most part to be in the same range as Manti. I believe Manti is better in pass defense where Rey is more a thumper, but ultimately I think they both fall to the second round and do not have the same impact in the NFL that they did in the college ranks.